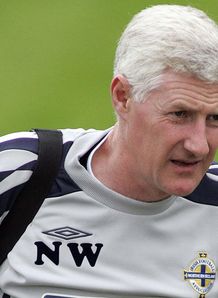 Nigel Worthington was snowbound yesterday and the Northern Ireland manager didn't make it to Belfast in order to announce
his squad
for the San Marino match on Wednesday week. On this occasion he should not shoulder criticism for the panel's most notable absentee.
Not only is Keith Gillespie without a club, having been released by Sheffield United, the player has also been uncontactable for eleven days. Worthington can't vouch for his fitness, his state of mind or even his availability. There was no choice other than to omit Gillespie from the squad.
Michael Duff and Ivan Sproule (who simply does not appear to be on the manager's radar) may consider themselves worthy of inclusion, but otherwise the squad is largely uncontentious. Deprived of one winger, Worthington has given himself the option of two more, selecting Celtic reserves McCourt and McGinn.
The manager knows that anything less than three points would be disastrous for Northern Ireland. He must set his team up positively from the outset, because San Marino might prove difficult to break down at home. That means employing both Lafferty and Healy up front (injury permitting) and giving the midfield licence to attack.
Either McCourt or McGinn might be required to play wide, despite lack of experience and first team football. It will be a difficult call for the manager to make (given quality available to him in the centre of the park), but deploying Brunt in order to provide width has not always been a successful strategy.
San Marino appeared to be a desperately limited outfit at Windsor Park. When they are at home, packing the defence, only a positive outlook from Northern Ireland should insure against an upset. A win is the minimum travelling supporters should expect.