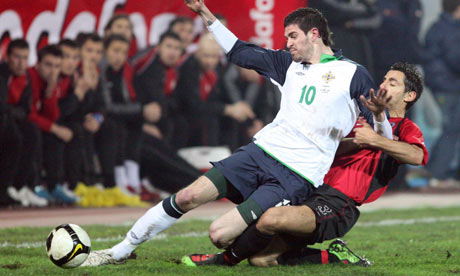 Anyone who has followed Northern Ireland over the years will have witnessed some dire performances. A couple of games against Canada spring to mind, not to mention a 1-0 home defeat to Armenia.
I remember few occasions, however, when the display has been as flat, as inept, as spiritless as it was in Tirana last night. Simply, the players weren't interested. Wherever they wanted to be on a wet night at the start of March, it wasn't in a crumbling stadium, on a boglike pitch, chasing Albanians.
Make no mistake - Albania is not a good side. However, for spells last night, Northern Ireland made them look like world-beaters. Or to be more accurate, we looked like San Marino.
No-one on our side emerged from a 1-0 reverse with credit. From one end of the pitch to the other tackles were limp, passes went to red shirts or to no-one at all. It was a terrible spectacle and a shameful performance.
Even Jackie Fullerton, the commentator, had a night to forget. He seemed unable even to identify members of the Northern Ireland team and he was oblivious to several substitutions. Fullerton consistently identified Rory Patterson as Kyle Lafferty, after the Rangers' striker had been withdrawn.
Goalkeeper, Maik Taylor, came out of the contest with his reputation untouched. The free kick which curled beyond his outstretched glove was a paradigm of accuracy and pace. His replacement, Jonathan Tuffey, misdirected a clearance, but otherwise performed confidently enough.
Outfield though, the standard was universally dreadful. Davis, usually the fulcrum of Northern Ireland's passing game, seemed to be stuck in the mud. He covered the spectrum of distribution, both short and long, with unerring inaccuracy.
His Old Firm rival, Niall McGinn, had easily his worst game at international level. As a nippy winger, reliant on skipping past the full-back, the pitch offered more of an excuse for McGinn than some of his team-mates.
Healy and Lafferty, for instance. Given that the surface was so heavy it was an awe-inspiring sight to witness the ball bouncing several yards away from the latter, after each misjudged first touch. You'd have thought he was playing with a tennis ball on tarmac.
Healy's main contribution was to lose his temper and attempt to stand on an Albanian defender. He still produces moments of quick footed guile. Unfortunately, last night, these were few and far between. And they tended to occur in wide areas rather than the box.
In retrospect, it is difficult to see how Nigel Worthington can take anything useful out of the debacle in Tirana. All the lessons which it taught him were negative. In fact supporters can only worry about the lack of application and team spirit exhibited by the players.
Thank goodness there are six long months before Northern Ireland again face opposition in a competitive match!
Rumours abound that the IFA hopes to arrange a trip to Estonia or the Faroe Islands to open up the European Qualifying campaign. On the strength of last night's performance, either game is eminently losable.