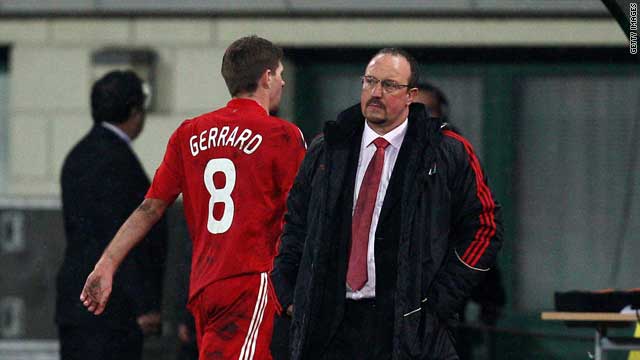 Liverpool's Champions' League victory recedes ever further into the rear-view mirror of history. It is now the fifth season since that campaign, which climaxed in Istanbul, and to celebrate the club has tumbled out of this year's competition at the group stages.
Rafa Benitez' side was not eliminated on the strength of its performances against Debrecen. Although last night the team delivered another unconvincing one goal victory against the minnows. Liverpool, under Benitez, have a habit of doing 'just enough' to beat substandard opposition in Europe and have often advanced on that basis. This time two fortunate victories against the Hungarians could not offset a defeat at Fiorentina and, crushingly, one point from six against Olympique Lyonnais.
The brutal truth is that Benitez' team deserves to be eliminated from the Champions' League, just as it deserved to be beaten by Arsenal's second string in the Carling Cup and just as it deserves to languish seventh in the Premier League.
An exceptional run of form between January and the end of last season obscured the incontrovertible fact that the squad is really rather threadbare. With Xabi Alonso's replacement suffering an interminable injury, Fernando Torres sidelined and Steven Gerrard struggling for fitness, Rafa Benitez can field only a distinctly ordinary team.
He has exacerbated his problems with some inexplicable decisions. Yossi Benayoun, producing rampant performances in a free role behind the striker, was consigned first to the wing and now to the bench.
The Greek, Kyriagos, continues to feature, despite a string of lamentable performances. A series of mediocre players which Liverpool's budget, and Benitez' transfer decisions, brought to the club have had their inadequacies continually exposed, simply because the manager has been forced to select them.
The fans have been remarkably patient with their manager,
but he should be under pressure
. The derby is on Sunday, and another defeat cannot be explained away with reference to the club's American owners.