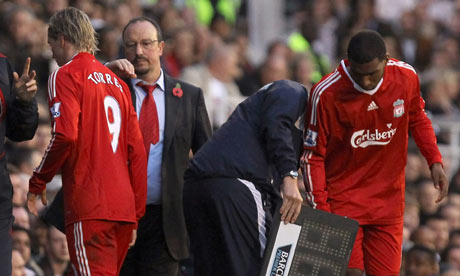 'The Fink Tank'
is the Times' attempt to unravel the mysteries of football by statistical analysis. It usefulness is circumscribed by the fact that the sport does not, in reality, bear much resemblance to a game of Championship Manager. Rather, it is determined by the attributes and performances of flawed human beings, forged into a team with the help of another flawed human being. And both players and manager are, in turn, subject to the vagaries of wind, rain, beachballs and several million other variables.
Nevertheless 'The Fink Tank' is useful for exploding various statistics based fallacies which are common currency for fans and football journalists alike. Take, for instance, the widespread assumption that Rafa Benitez' Liverpool squad has been expensively assembled. In actuality the 2009-10 panel is ranked fifth in the Premier League by cost. Manchester City, Chelsea, Manchester United and Spurs' squads each required a larger budget to build.
Hard statistics also show that the Anfield club has overachieved relative to the size of its wage bill, under the Spaniard's tutelage. On the field of play supporters can point to patchy defending, injuries and the absence of Xabi Alonso to explain Liverpool's poor form. However, analysis refutes the suggestion that flawed tactics and poor judgment in the transfer market have proved more critical than an absence of investment. To borrow from tabloidese, 'boffins' contend that boardroom failures, rather than managerial deficiencies are to blame for Liverpool's problems.
I certainly accept that Benitez has not received the backing required to mount a serious title challenge.
In order to build on last season's campaign, during which a competent but rather shallow squad achieved a remarkable sequence of results after Christmas, the manager needed to retain the services of all his best players and add several more, including a striker to replace Robbie Keane. He was not given the financial wherewithal to go about his task properly. Had money been scraped together, David Villa, to take an example, would today be plying his trade at Anfield.
No-one can convince me, however, that the manager cannot do better with the resources he has to hand. Whilst the statistics might prove otherwise, eye witness appraisal of the evidence on the pitch should not be dismissed.
At Craven Cottage on Saturday Liverpool fielded Andriy Voronin, a Benitez buy whose impact on the club has been negligible. In defence, a lumbering Greek, fresh from gifting Arsenal safe passage in the Carling Cup, extended his endless hospitality to Fulham's forwards. Kyriagis has been inexplicably allowed to pursue a career at Anfield, despite failing to fulfil Newcastle United's requirements and proving inadequate at Glasgow Rangers! When Torres was withdrawn towards the end, a complete failure to provide cover for the striker was, again, exposed.
Liverpool only have one decent striker, not because the financial cupboard is bare, primarily, but because Rafa Benitez rarely likes to deploy more than one forward at a time. Voronin and Kyriagis are at the club, not because it is forced to deal only in the bargain basement, but because the manager chooses to bolster his team with obscure fringe players who rarely make it out of the reserves.
The other nuance which the statistics miss is the simple, blindingly obvious fact that when Liverpool play positively and press the opposition, results improve, irrespective of the personnel selected. The Manchester United game, which did not feature Gerrard and saw Torres hauled off before the end, is a prime example. In contrast, Liverpool failed to put a single decent challenge in against Arsenal last Wednesday, and should have lost heavily. If Benitez' side are happy to sit back and cede possession to the opposition, they lose.
I agree entirely that the prime obstacles to Liverpool's success are its owners, rather than the manager. There is almost no chance that the club will have the resources to purchase the three players which are a bare minimum if it is to seriously trouble the top two, without eroding the quality of the current squad. I would like to see a solid young defender, as opposed to a ropy old one, a fit midfielder and a world class foil for Torres introduced. I'm sure Benitez has similar aspirations.
But that doesn't excuse home defeats to Lyon or signing Voronin, Kyriagis, Dossena and the like. Losing six games in seven is Rafa's responsibility, whatever the statistics might suggest.