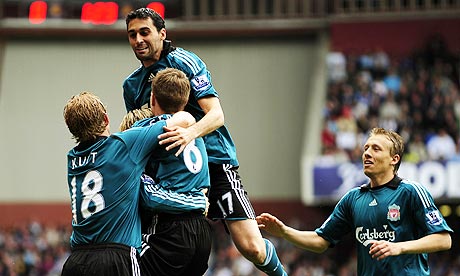 Liverpool supporters should enjoy the next four hours, because I strongly suspect they will be the last the club spend, this season, at the pinnacle of the Premier League. Although I have frequently criticised Rafa Benitez and his side, I have to acknowledge that topping the table in May, even for twenty two hours, represents the type of progress which defined the club's aspirations at the start of the season. Of course fans will ruefully remember points carelessly cast away as the team spluttered to home draws against teams which it was expected to beat. Indisputably, though, the manager has managed to iron out inconsistencies as 2009 has progressed.
2008-09, then, will have to serve as a dry run for Liverpool's 'big push' in 2009-10. I tend to agree with the
Observer's Paul Hayward
that the team's spine is its strength and the positions around this core should form Rafa's focus when the transfer window reopens. I read with apprehension reports that the manager still views Gareth Barry as his main summer target. Surely Xabi Alonso has proved, beyond all doubt, that he is the fulcrum of Liverpool's passing game? At full back, left wing, centre forward and even centre back, improvements or more strength in depth would be welcome. Central midfield is, I would contend, the team's strong suit.
I fully expect the title's destination to be confirmed by the time Liverpool visit West Brom next Sunday. However, on the back of his team's strong challenge, Benitez has consolidated his position at the club's helm. He faces his most vital summer. To continue to improve league form must be every manager's goal and next season the only room for improvement will be to lift the trophy.