After Hoey attack, motion of no confidence in Speaker Martin is a 'no brainer'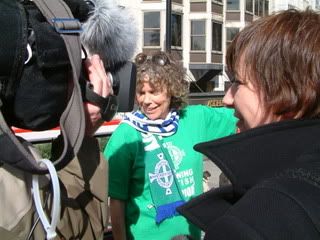 Yesterday
Nick Robinson summated
the Commons' expenses debacle with salience and brevity, by announcing that the notion of the 'honourable member' is dead. Ironically, the man charged with upholding propriety within the chamber, Speaker Michael Martin, chose to launch an extraordinary, barely penetrable attack against one of the members whose honour and dignity remain intact, Kate Hoey.
Rarely can the Guardian's sketch writer, Simon Hoggart, have been presented with more apposite material. This morning
he has gratefully
transcribed Martin's venomous assault on Hoey, as well as providing a sardonic synopsis of what the speaker's initial statement should have consisted of.
Martin, as Hoggart suggests, has presided over the expenses' fiasco, for which he should assume a large degree of responsibility. And as lamentable as his defensive response to the Daily Telegraph's revelations might have been, his retort to the MP for Vauxhall, who suggested that the Metropolitan Police has more pressing issues to attend to than investigating a leak which, in terms of private details, was treated with some discretion by the newspaper which carried it, was even more disgraceful. Hoggart writes,
"You would have thought she had questioned the Speaker's parentage. "Might not this be seen as a way of hiding …" she tried to say, but he shut her up. "I listen to the honourable lady often, when I turn on the TV at midnight and I hear her public utterances and pearls of wisdom on Sky News …" He added: "It is easy to say to the press, this should not happen, it's a wee bit more difficult when you don't have to give quotes to the Express – to the press, not the Express – and do nothing else. Some of us in this house have other responsibilities, not just talking to the press!""
It was, as the sketch writer intimates, an unalloyed and gratuitous piece of abuse, and an incoherent one at that.
Pertinently, whilst Hoey has remained consistently critical of those who exploit Commons' expenses, Martin has led the fight to prevent MPs' claims being published. It was the Speaker to whom the resources department which dispensed Members' perks reported and it was the Speaker who resisted attempts to tighten up the system.
One might have expected that, following his high profile role in the arrest of Damian Green, Martin would have been keen not to immerse himself in a fresh controversy. Even had he delivered a contrite and considered statement yesterday, and calmly answered any questions with humility and forbearance, there would be a strong case for seeking his resignation. After yesterday's performance Douglas Carswell's MP's
Early Day Motion of no confidence
in the Speaker is the proverbial 'no brainer'.