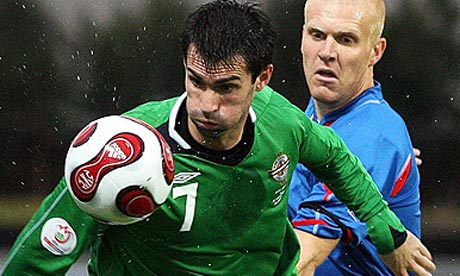 There are few sounds more pleasing to the Northern Ireland fan's ear than a stiletto 'KEITH' cutting through cold night air at Windsor Park, to be hammered home by an adamant 'GILLESPIE!'. When the Green and White Army chants the name of its favourite winger, the noise is fearsome.
And a fearsome sight is what Gillespie comprises for opposition fullbacks when he is in full flight. Blistering pace, close control and a right foot which whips the ball consistently towards the danger zone are all characteristics of Keith's game. Unfortunately ill discipline, the capacity to be easily discouraged and a red mist which occasionally makes the player look intent on acquiring yellow cards, are all
additional traits
which accompany his undeniable talent.
Nevertheless, it's good news for Northern Ireland supporters that Gillespie has been
signed by Bradford City
. He had become a free agent earlier in the season after being released, not without a degree of acrimony, by Championship side Sheffield United.
Keith is 34 and with doubts about his match fitness remaining he is unlikely to feature in Nigel Worthington's plans for forthcoming make or break World Cup games against Poland and Slovenia.
Although some supporters would name Gillespie in their squads if he were 70 years old and walking only with aid of a stick, I believe the manager has little choice but to omit the winger. Damien Johnson can play on the right flank and if Worthington seeks a winger to come on as an impact sub, fully fit Ivan Sproule is the safer (and quicker) option.
Certainly, Keith Gillespie has, through the years, made a significant contribution to the Northern Ireland football team. It would be marvellous to see his invigorating wing play once again illuminating Windsor Park, after sustained first team football for Bradford.