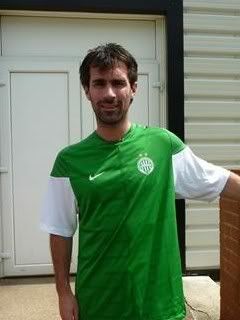 Hungarian is a notoriously difficult language, but I have enough faith in my readers to post
this link
, in the faint hope that someone might decipher it. From
these photos
it would certainly appear that flying Northern Ireland winger Keith Gillespie has found himself a new club.
Ferencváros, or Fradi as they are popularly known, are a Budapest team with the biggest support in Hungary. I also gather that they will be playing in the country's top flight next season after a sojourn in the lower leagues.
Good luck to Keith if he has found himself a new club. Perhaps he might yet don the green shirt of Northern Ireland again, if his performances in this new shade of green are adequate. The talent is still there if the temperament and fitness can be maintained as well.
(H/T Tubby Morton OWC)
Update:
Yourcousin has kindly provided this synopsis of the article courtesy of his (Hungarian I assume?) wife:

A little late with this one (as per usual) but my wife read it to me and the article essentially relates the fact that Bobby Davidson has the team on a rigorous work out schedule in order to get them up to par for the coming season. The article names the starting goal tender and they fact that Davidson would like to see the continuation of a some of the positive offense they had last year in the lower division. They were trying to get four players to help further this end with Gillespie already agreeing (in the article). That's really about it
Although as O'Neill comments, its is now rumoured on OWC that Sheffield United have scotched the deal. Which is a pity, as cheering on Keith would have might a fine pretext to visit Budapest.