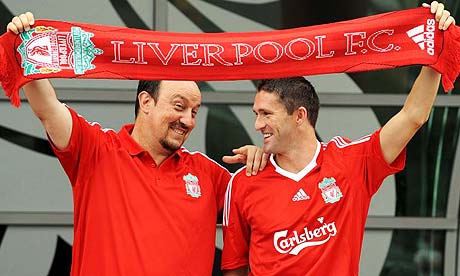 Sometimes I weary even myself with the negativity I bring to following football. However I must again register scepticism as to whether
investing £20m in Robbie Keane
is likely either to provide the crucial part of the jigsaw which brings the title to Anfield or represent good value, considering that the player is a 28 year old centre forward.
Don't get me wrong, I believe that Keane is a good player, and I'm pleased to have him at the club. I just wonder whether, at the price, if he is to form the centrepiece to Rafa Benitez's close season reshuffle, whether that is enough. Rumours abound that flush with cash from the Keane transfer, Tottenham will attempt to lure David Villa to north London. Without slighting Keane, I know which player I would rather have linking up with Fernando Torres, and which player I believe would be more likely to provide the impetus for a title challenge. Neither do I believe that Gareth Barry offers the answer for Rafa Benitez, particularly at the expense of a world class midfielder like Xabi Alonso.
Keane is a subtle player with an eye for goal. He should provide a crafty foil for Liverpool's Number 9 with his clever link up play. But Liverpool need much more than Robbie Keane to win the Premiership.