Russia show themselves to be contenders
At the outset
I declared
that I would be supporting Russia in the European Championships, and after an uninspired start Guus Hiddink's team showed themselves genuine contenders last night with a slick, inventive display of passing football against Sweden.
In their opening fixture, against Spain, Russia had demonstrated in spells, their adroitness in possession, but a propensity to play at pedestrian pace and a readiness to surrender the ball, allowed a strong Spanish side to claim an easy victory. In the following encounter, against Greece, the Russians improved, turning possession more effectively into opportunity and allowing attacking full-back Yuri Zhirkov licence to roam unfettered on the left flank.
Last night, with crafty forward Arshavin returning, Russia began to produce the ole football which characterised Zenit St Petersburg's UEFA Cup winning campaign. They won 2-0, with goals from rangy Spartak striker Roman Pavlyuchenko and Zenit's Arshavin, but would have increased that margin substantially, had their forwards not shown almost comic profligacy in front of goal.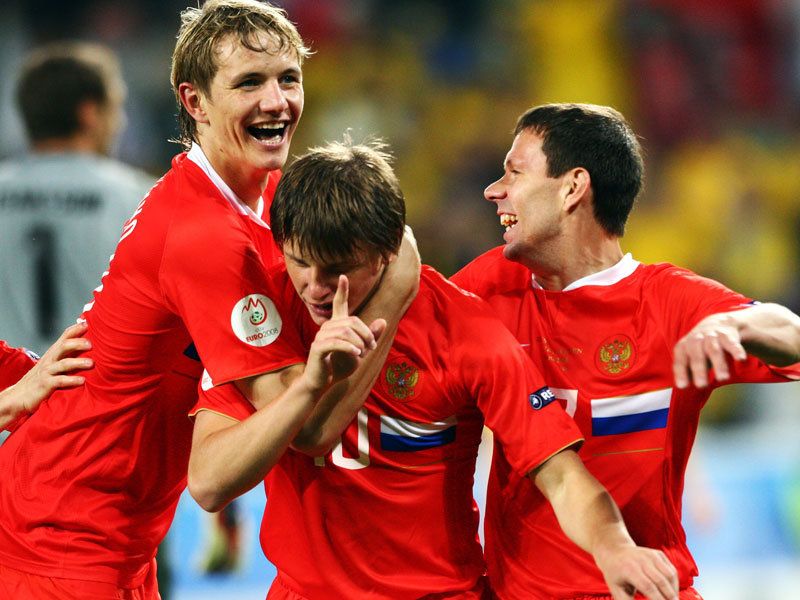 Russia will now play Holland in the quarter finals, the first time they have competed in the knock out stages since playing the same opposition in the 1988 final. This is striking evidence of the gathering strength and youthful vigour of Russian football. Their opponents have confounded expectations, and criticism from Johann Cruyff (amongst others), to prove themselves worthy successors to previous illustrious Dutch teams.
I am slightly worried for Russia, for the simple reason that, although they may match (and indeed mirror), the Dutch facility for passing and movement, I believe the Netherlands may be more adept when it comes to converting intricate combinations of passes into goals. Russia's principle out and out striker (for Arshavin is more of a provider who drifts wide frequently or operates in the hole) is Pavlyuchenko, who boasts skill, speed and height, but whose goals to chances ratio has not been good.
That said, Russia were entrancing last night, and sides managed by Guus Hiddink acquire an aura when they compete in finals competitions. Against Sweden their speed of thought and craft looked at least equal to that so far displayed by the Dutch. The quarter final will be on Saturday night and I would like to see Russia progress, if only to facilitate more pretentious
'Russian football and national revival'
blog posts from yours truly.