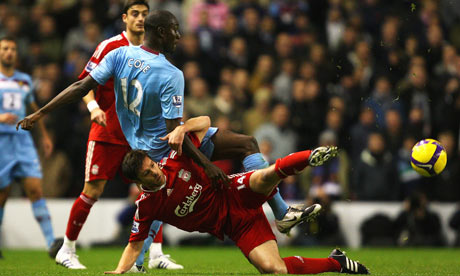 Paradoxically, on a night when Liverpool regained Premier League top spot, the club's championship credentials appeared increasingly flimsy. Chelsea, who dropped home points against Arsenal on Sunday, and Manchester United, must have drawn encouragement from an anaemic Liverpool performance which failed to kill off West Ham United at Anfield.
Frankly the performance was not good enough. Robbie Keane was isolated and ineffective up front and he did not receive sufficient support from Dirk Kuyt. Kuyt was brought in from the right hand side to play deep, just behind Keane, a tactic which simply did not work. Had the roles been reversed, the Irish striker might have had a less frustrating evening. Although a little fleet of foot was what Liverpool really missed last night, as evidenced by the threat eventually posed by Ngog, introduced with only 20 minutes remaining.
Although
Rafa Benitez insists
that his side played well, my view was that the team was too one paced and predictable. West Ham appeared happy to contain Liverpool's attacks and although the ball remained with the reds all night, there was no a surfeit of opportunities from which frustrated supporters might take a little consolation. Dominating possession is all well and good, but it must be accompanied by intent and threat. Too often, in the absence of Torres, Liverpool provides neither.
Benitez' team has now failed to score in home games against Stoke, Fulham and West Ham, games which should have yielded 9 points. That is not the stuff title winning teams are made of. My suspicion is that Liverpool fans' long wait for a league triumph will go on beyond this season.