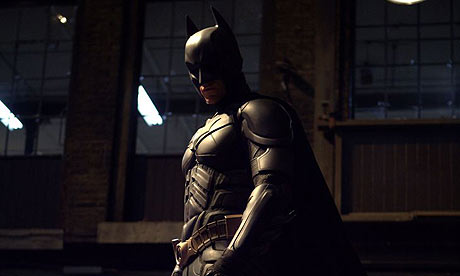 The new Batman film, 'The Dark Knight', has won critical plaudits to go with the hype incumbent on its status as the summer's biggest blockbuster. I watched it on Thursday and whilst it is certainly overrated and blatantly over hyped, it does provide a high impact cinematic experience with enough heave and heft to engage an audience, rather than simply slapping its forehead with incessant action.
The portentous interpretations which some critics have invested in this film perhaps owe more to Heath Ledger's death than anything remarkable about the movie itself. Ledger undoubtedly plays the Joker in memorable fashion, endowing the character with a range of creepy idiosyncrasies. His villain steals the show. However, like Brandon Lee's performance in 'The Crow', the actor's portrayal has acquired a dark lustre from his subsequent demise which inflames reviewers' imaginations and makes subjective viewing less likely.
Christopher Nolan's film is pleasingly dark and brooding, delivering its atmospherics in a fashion that other movies of this genre can only seek to replicate. The moral ambivalence of its hero alludes to tricky quandaries concerning curtailment of rights and freedoms in the cause of protecting citizens. In this respect the film aspires to tackle contemporary issues and raise itself above the standard blockbuster fare.
Whether it does so in a particularly subtle fashion is doubtful. On a few occasions I expected a buzzer to begin sounding and a mechanised voice to intone 'allegory alert!'. The film is enjoyable, but it isn't a classic. In a year's time it will not still be rumbling about in its audience's heads in the same way as 'Let There Be Blood' for example. It is a big, entertaining action film which touches on a few issues and majors on atmosphere. Go and enjoy it – but don't expect a masterpiece.