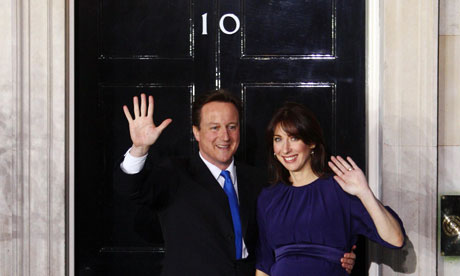 So good sense has prevailed and David Cameron, finally,
becomes Prime Minister
. It has been a long wait to get Gordon Brown out of Downing Street. Yesterday Fraser Nelson caustically observed that special forces would be required to dislodge Brown from Number 10. That hasn't quite been necessary, Nick Clegg put the outgoing PM out of his misery.
O'Neill has
outlined the reasons
that the putative 'traffic light' coalition, or 'coalition of losers', would have spelled disaster for the United Kingdom. The Conservatives certainly realised this, a growing chorus of voices in the Labour party, to be fair to them, pointed out the same thing and the Liberal Democrats have apparently come to the same opinion.
Nick Clegg's party is in an extraordinary position. It has acquired political responsibility and leverage far beyond its mandate. But the Lib Dems moment in the sun could yet prove their undoing.
Had the party gone into power with Labour and a coterie of nationalists, it would have attracted enormous opprobrium and secured a landslide for the Tories whenever, inevitably, its unholy alliance fell apart. I am surprised, however, that Clegg favours shackling himself to the Conservatives.
If the Lib Dems do not accept, graciously, the role of junior partner, Cameron can portray a small party, holding the country to ransom. If they are too obviously subordinate, then any reason to vote Liberal Democrat in the future will evaporate. Their core support is already unhappy about any Tory deal.
I do believe that a Con -Lib coalition is the most responsible course of action, that it can provide a stable administration and that its government can work. Both the Conservatives and the Liberal Democrats have expressed commitment to cutting the deficit. David Cameron might have to rein in some of his plans, but there is plenty of common ground to get a government started.
I'm surprised that, on a purely tactical level, Nick Clegg has not steered his party towards support for a minority Conservative administration. However, that too would be unstable, and, if he secures agreement from the Lib Dem parliamentary party to go into government, which he surely will, then he should be congratulated for doing the right thing by Britain.